Add:Jinyanshan, Industrial Zone, Wuyi, Zhejiang, China
TEL:0086-579-87967778
FAX:0086-579-87967776
Mobile:13967923823
Zip Code:321300
Contact:Mr.Ying
Website:http://www.cnbesco.com
Email:sales@cnbesco.com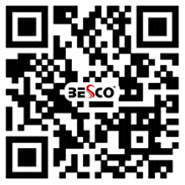 Nonstick History
(Hits:)
Origin
Author
Add Time2014-10-21
" Non-stick " come to people's lives has brought great convenience, people do not have to mention the heart boiled pork accidentally burnt stick pan fried fish fillets when the wall .
This non-stick pan and general appearance does not matter , only just more than the inner surface of the pan coated with a layer of PTFE, using PTFE excellent thermal properties, chemical properties , and easy cleaning performance
and made ??of non-toxic properties of this popular kitchen appliances.
Teflon reputation for being " plastic" has good resistance to chemical corrosion and anti-aging properties, " aqua regia " is also difficult to corrosion.
Ordinary plastic products prone to aging, the original looks good stuff , over three to five years or ten years it will crack, and even broken, may " plastic" products made ??in the outdoor place , despite the sun and rain
, three decades have no damage.
Which is widely used in the life and chemical industry .

" Plastic" is also widely used in industrial and corrosion on the absorber vessel , with the " plastic" improvement, it is in modern life , agriculture, industry, national defense and science and technology will be more extensive use of
.